Home & Residential Pool Cleaning Services for Satellite Beach, Indian Harbour Beach, Indialantic, Cocoa Beach and Melbourne Beach, Florida
Residential Pool Service in Brevard County
With Ohana Pool Service you will know your "pool person", so you can trust them being around your home. There's nothing like the comfort of knowing that the same service technician will be regularly maintain your swimming pool and spa. We track the history the condition and treatments introduced into your pool, the helps greatly in heading off potential problem, as well as a basis for correcting a chemical condition or circulation systems issue.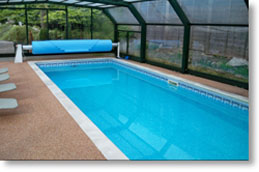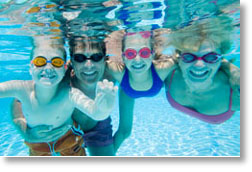 You can trust the pool experts at OHANA to keep your swimming pool in top condition. Our technicians are NSPF Certified Pool and Spa Operators. Give us a call TODAY and see what great pool service in the South Brevard beachside area is like.
Ohana Pool Service was established in 2004. As a family owned and operated business, our primary goal is your complete satisfaction! We do that by providing consistent service and listening to your feedback. Ever striving to provide pool service that is second to none, at an affordable price. We are open to your questions and inquires concerning your family pool. Melbourne, Palm Bay, Suntree and Viera homeowners rely on OHANA's superior service, and you can too. Just a phone call away, (321) 961-1955.
The OHANA Pool Service

This is our standard pool cleaning service, done on a weekly basis.

Weekly water line tile brushing
Brush and vacuum your pool and/or spa as required
Check and clean out all filters
Check and clean skimmer baskets as needed
Do pool water analysis and servicing to obtain pH balance at every visit
Look over your pool and equipment to see if it is working properly

Salt System Care (if applicable)

Weekly review system for optimal operation
Inspect and clean flow cell as required
Add additional salt as needed
OHANA Supplemental Pool Services
Sometimes just cleaning and maintaining your pools water is not enough. Some of the additional services we offer for both chlorine and salt generated pool or spa are:

Stain treatments
Acid washing
Annual equipment service
Metal out removal
Spa cleaning services
Pool repairs
Phosphate removal